The amount of sunlight or solar energy an electric fence needs depends on the size of the fence. This means the smaller the fence, the less solar energy you'll need to power it, and vice versa.
An electric fence is a facility that every homeowner or farm owner should have because it's a very effective way of securing the property and keeping intruders out. It also helps in keeping your pets or farm animals within the borders of the property.
If you plan to build a solar-powered electric fence, you must understand how much solar power your electric fence needs, how it works, and its essential components. However, let's answer one important question before that.
Does an Electric Fence Work With Solar Power?
Yes, it does. You can install a solar system and connect it to your electric fence. This reduces your electricity bills because you'll no longer need to connect the electric fence to the grid. You'll need a solar fence charger to make your fence work with sunlight.
What Makes Up a Solar-Powered Fence?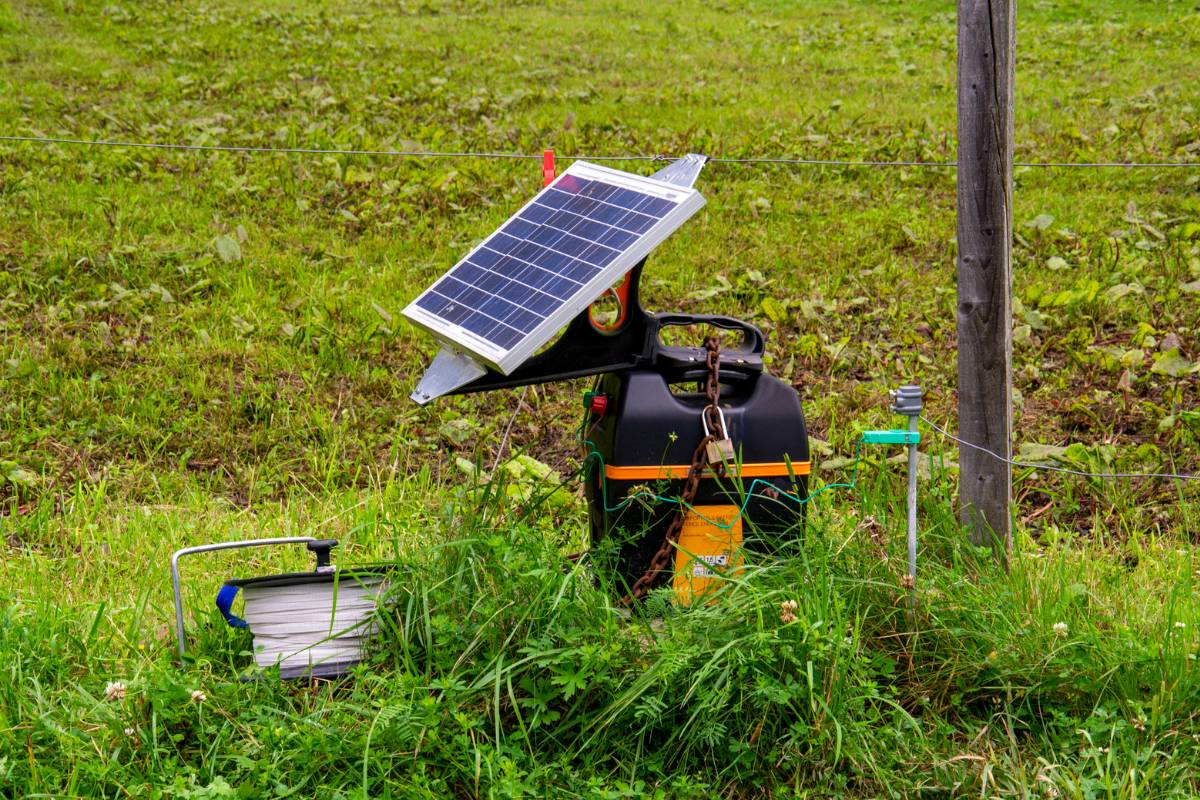 This facility comprises several components which play a unique but interconnected function to ensure the fence is electrified. They include:
PV Panels
Photovoltaic panels contain cells that get energy from direct sunlight, convert it to electricity, and channel it to the capacitor or the fence charger.
Batteries
Though the fence charger or fence energizer can function without batteries, you'll need them to power your electric fence at night, during cloudy weather conditions, or in any other situation when there's no access to direct sunlight. These batteries store energy from the panels for later use. The larger the capacity of the battery, the more energy it can store.
Capacitor
This device is an alternative to a battery. Although it doesn't store as much power as a battery can, it discharges it much more quickly. Its function is very similar to the battery, to store electric power and direct it to the fence when needed.
Fence Charger
This component is the main engine of the electric fence. It's also called the fence energizer. The electric fence charger is primarily responsible for converting low direct current from the panels to high alternate current, which powers the electric fence. The fence energizer comes with a charge controller for regulating the system's voltage.
Does My PV Fence Energizer Need a Battery?
It can work without it, but your electric fence will have no electricity to function at night or when there's no access to sunlight. For this reason, you need a battery so that your electric fence can remain powered in the absence or presence of sunlight. One battery is enough if your battery is not more than 500 feet long.
How Long Does My PV Fence Charger Take to Be Fully Charged?
With five hours of direct sunlight, your fence energizer can keep your electric fence functional all night. For it to be fully charged, it will definitely take longer – within 48 hours. On a full charge, fence chargers can power the electric fence for 3-4 days without access to sunlight until the battery runs out of juice.
What's the Lifespan of the Fence Charger?
This depends on the frequency of charge cycles. If your fence energizer gets 5 hours of sunlight daily, it should serve you for about two decades. The batteries, on the other hand, have a much shorter lifespan. Batteries last for 3-5 years before requiring replacement.
Pros of PV Fence Chargers
A fence energizer is portable, which also makes your electric fence portable. This benefit is even more pronounced for makeshift fencing. You can change its position or remove it whenever you want.
You'll spend less on energy bills because it sources its electricity from sunlight.
It needs minimal maintenance.
It's safer than standard electric fence chargers because it doesn't electrocute the pets/farm animals; it just gives a mild shock.
It encourages self-reliance. You don't need to depend on the grid for power to electrify your fence. With a photovoltaic panel and another vital component, you're good to go.
Cons of Fence Chargers
PV fence chargers are very weather-dependent. It only works optimally when there's access to direct sunlight. On cloudy days or during the winter season, there will be little or no sunlight to tap energy from. However, your fence will stay electrified for days with a big-capacity battery.
It works best for small areas.