Deciding to buy a wireless solar-powered keyboard is really the easiest part of the process. The hard part is choosing one that will give you all the features and functionality you need at a price you can afford. The good news is you need not stress about it. We've used our knowledge and expertise to take some of the legwork out of choosing one of these great gadgets and put together a list of some of the best solar keyboards out there.
Our Top Picks
Logitech K750 Wireless Solar Keyboard – Best Windows option and overall winner
Macally Bluetooth Wireless Solar Keyboard – Best Mac option and overall runner up
Logitech Wireless Solar Keyboard K760 – Best Mac multi-device option
Arteck Wireless Solar Keyboard – Best budget Windows multi-platform option
Jelly Comb Full Size Solar Rechargeable Keyboard – Best budget wild card
Logitech MK750 Wireless Solar Keyboard and Mouse Combo – Best Windows combo pack
We've based our wireless solar keyboard selection on the most commonly sought-after wireless keyboard features. These include battery charge life, quiet type keys, ergonomic tilt angles, and key layouts, multiplatform/multi-device support, low weights, slim dimensions, and, of course, pricing.
Today's crop of wireless solar keyboards are more ergonomic, reliable, functional, and include more value-added features as manufacturers cotton on to ever-increasing consumer expectations. It's never been a better time to buy a solar keyboard.
So, if you are looking for comfort, quiet typing, or thoughtful and convenient key layouts, you're in the right place. Our pick of wireless solar keyboards eases your choice process by including examples of industry-leading design concepts, build quality, and overall excellence in fit, finish, and features.
In short, if it's not on this list, it isn't worth considering!
1. Logitech K750 Wireless Solar Keyboard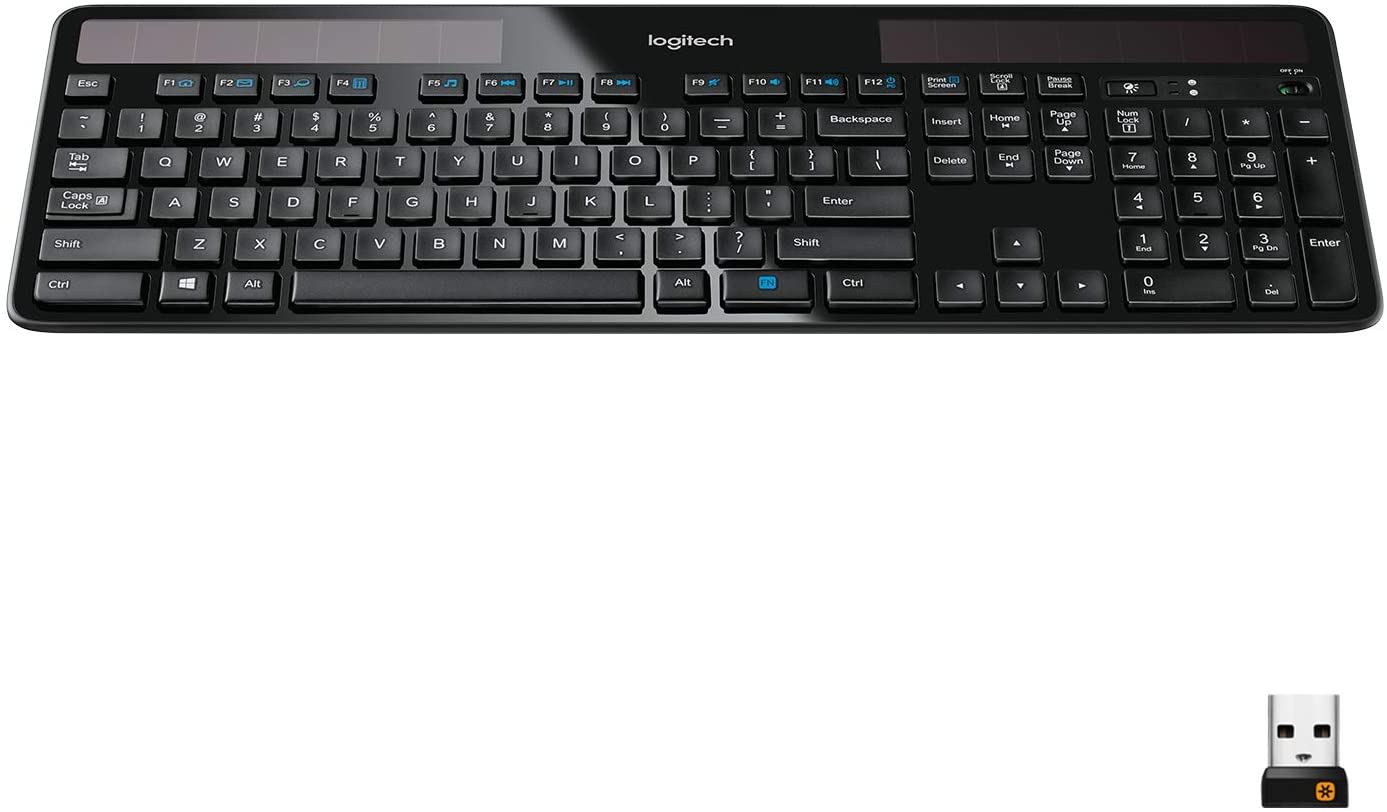 Logitech generally needs no introduction as a premium supplier of computer accessories. The K750 wireless solar keyboard stays true to Logitech's reputation of product excellence and offers users an outstanding combination of features and quality.
Overview
Aimed exclusively for the Windows market, the K750 exhibits all of the build quality and thoughtful design that Logitech is known for. This is a full-sized keyboard that is slim, and we mean slimmer than most of our lineup. Don't let its svelt dimensions fool you, though. The K750 is powerful and sports features that set it apart from the rest of the lineup.
In terms of user experience, this keyboard doesn't give anything away either. An integrated Numpad makes quick work of data entry, and low-profile keys allow for comfortable and intuitive typing. In addition, Logitech's proprietary concave keycaps and PerfectStroke key technology deliver the best typing experience of all the keyboards on review.
The keyboard connects via a wireless unifying receiver. Unifying means you can connect the keyboard and five other compatible devices through one tiny Logitech unifying receiver. For example, this will allow you to use one USB receiver for both keyboard and mouse.
This is a feature unique to the Logitech keyboard range and not found on any of the other keyboards we have reviewed.
Apart from these features, Logitech uses a 35.24 cm² split mc-Si solar panel which produces an open circuit voltage of 4.7 volts under CFL (artificial fluorescent) light. This means the panel will charge the battery under most indoor lighting as well as natural sunlight.
Check out this independent review of the Logitech K750 wireless solar keyboard.
Price point
Unfortunately, the Logitech K750 wireless solar keyboard fairly pricey. It comes in at the top end of our lineup.
Pros
One of the slimmest keyboards in the lineup.
The unifying RF receiver is a clear winner for the Logitech K750
The most comfortable and quiet typing experience of all keyboards was reviewed.
Programmable hotkey selection unique
Charge monitoring app unique to this keyboard
Cons
No backlight
High price point
Our Take
The Logitech K750 is an excellent wireless solar keyboard and our hands-down winner. Although it does have some negative points, it is, overall, the best value for money available for Windows users today. Its slim design, charge monitoring app, and excellent typing experience places it at the front of the pack for most of the race. However, the unifying RF receiver technology carries it across the line well ahead of the pack.
2. Macally Bluetooth Wireless Solar Keyboard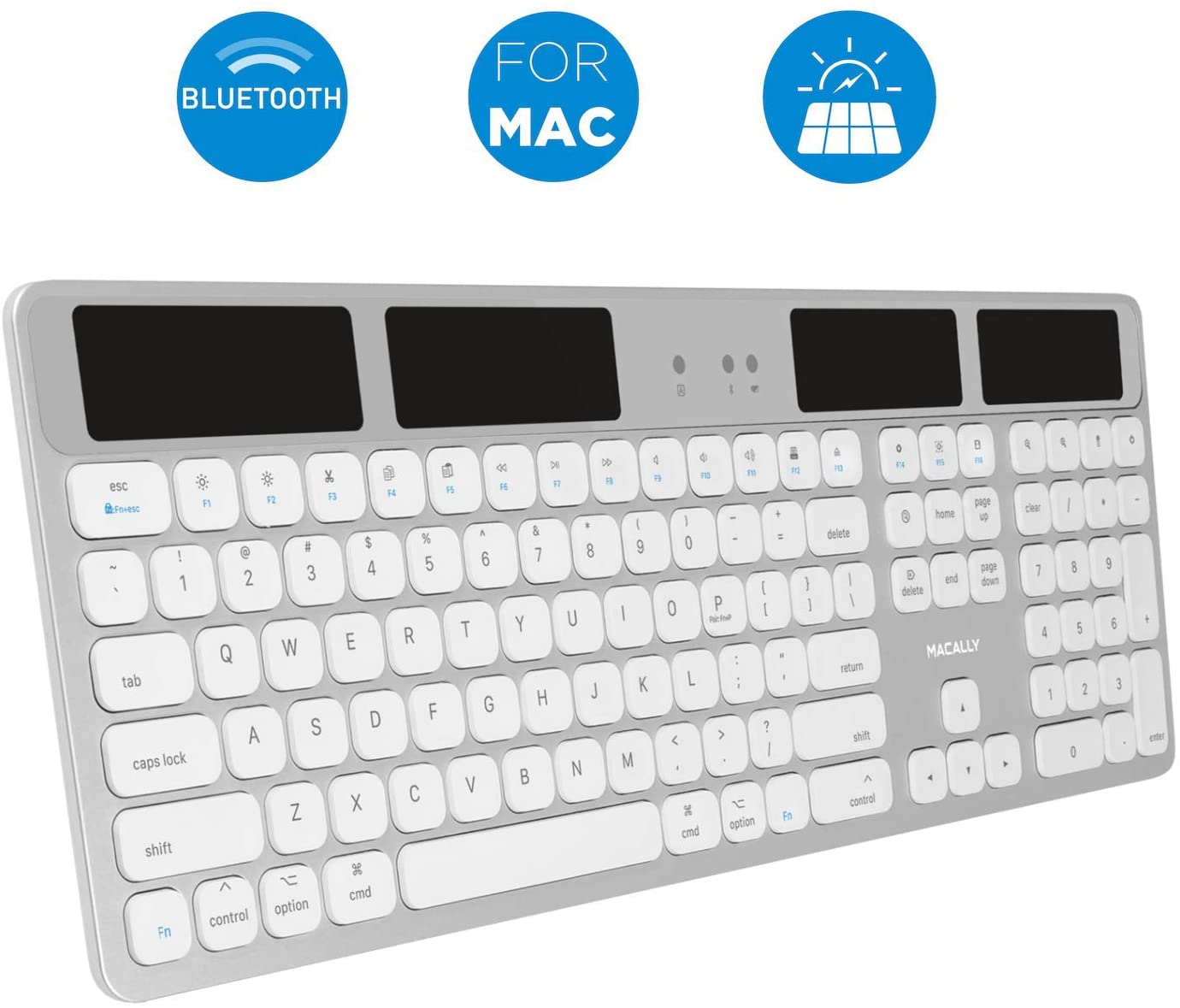 Our second wireless solar keyboard contender and second place winner is an exclusive Mac wireless solar keyboard from Macally. Macally has been a trusted Apple Mac accessory provider for 25 years and has earned themselves an enviable reputation for product excellence and service.
Overview
The Macally Bluetooth wireless solar keyboard is a prime example of the companies high standards and attention to detail. Sporting a full-sized 110 key layout with Macally's Scissor-Key-Switch™ concave keycaps, this solar-powered keyboard offers a quiet and comfortable typing experience.
Although most contemporary keyboards employ scissor key switches, Macally seems to have aced it with this keyboard. These keys are almost like extensions of your fingers, tight and secure but smooth and very quiet. However, the closer key pitch detracts from the overall typing experience just enough to allow the K750 to edge ahead.
In addition to the overall great typing vibe, 21 one-touch Mac app shortcut preset keys and a 17 key numeric keyboard deliver exceptional convenience and ease of use. If that wasn't enough, reallocating F key functions is a lot easier than competitor products. These features are not often found together and certainly beat our other Mac contenders to the finish line.
The keyboard's battery will supply even the most reclusive user with up to two months of zero light power before having to recharge. And a convenient on/off switch adds to the keyboard's power-saving potential.
if you're not impressed yet, have a look at this independent review.
Price point
Mac peripherals are generally not cheap, and this keyboard goes through checkout at the upper end of the solar keyboard scale.
Pros
Outstanding key feel delivers enviable comfort and quiet typing
Best programmable key functions and preset options of all Mac runners
Good black-out battery life
Cons
Fairly long wake-up time
One of the highest price points in the lineup
No backlighting
Our Take
This keyboard is a real bonus for Mac users. It is solid, well made and has a game-winning key feel, F1 key programming, and presets. The Macally solar-powered Bluetooth keyboard delivers comfort, convenience, and features that put Apple's products in the shade for most users. A very deserving runner-up.
3. Logitech K760 Wireless Solar Keyboard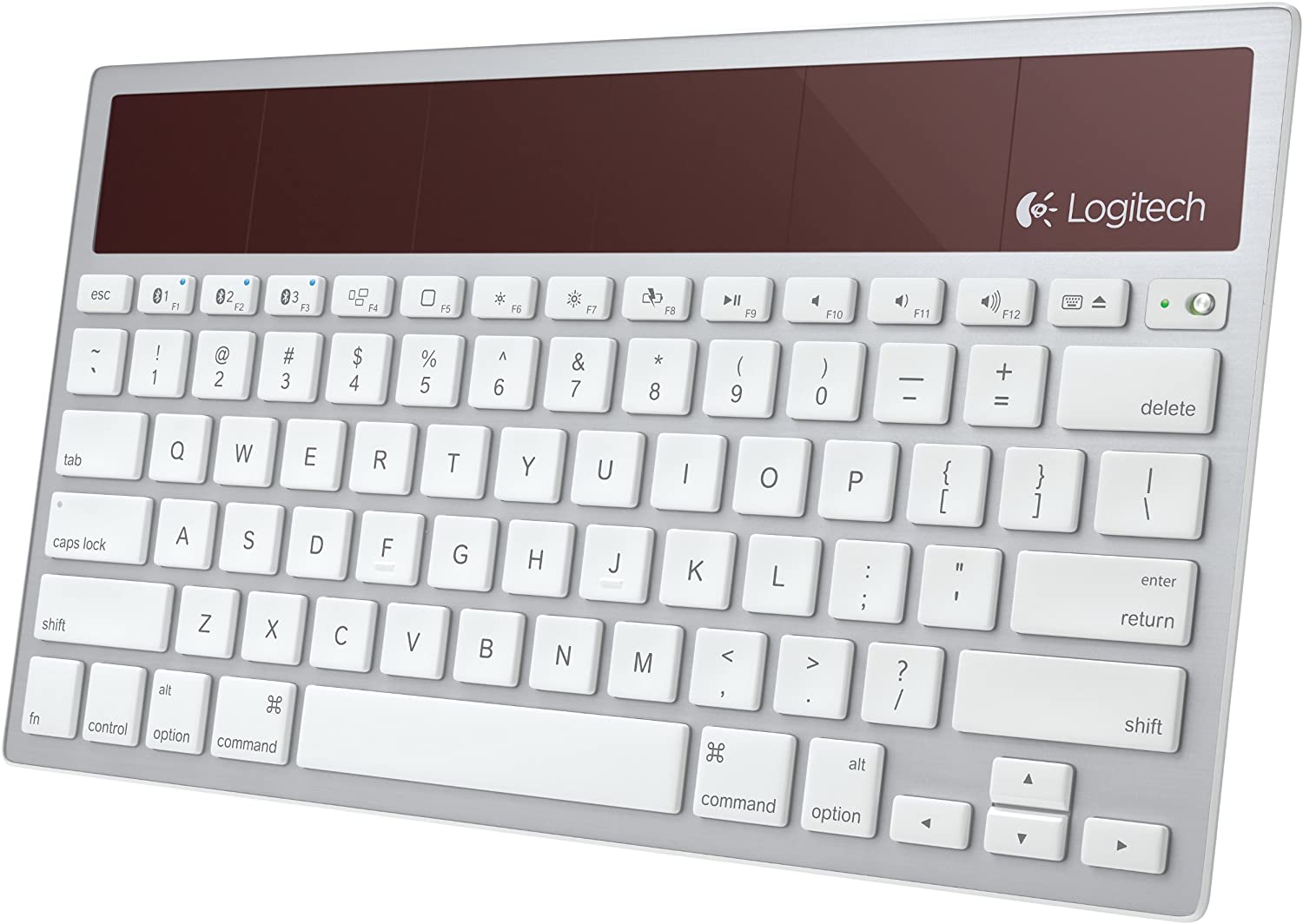 Our second Logitech competitor is the second choice for Mac users. The K760 keyboard shares many features with its PC sibling, with the addition of some attractive features guaranteed to put a smile on Mac user's faces.
Overview
The K760 is smaller than the K750 and Macally Bluetooth keyboards, shaving almost five inches off the overall length; while being thicker than its peers, it feels less robust with some noticeable lateral flexing. That said, it still delivers Logitech's legendary reliability, with few reviewers encountering any noteworthy problems.
The K760 definitely trumps a lot of the other keyboards in the lineup with its green "No PVC" construction. With keyboards largely becoming disposable commodities, this is a major selling point for those conscious of their impact on the environment.
The typing feel of the K760 keyboard is fast and comfortable, although it is not as quiet as the Macally and K750. The keys don't feel quite as solid or "tight" as the other solar keyboards, but that doesn't affect typing speed or comfort once you get used to it.
The feature of the K760 solar-powered keyboard that sets it apart from Macally's keyboard is the three Bluetooth device allocation keys. Located in the traditional F key row, these keys allow you to seamlessly switch between your Macbook, iPad, or iPhone at the press of a button. Once paired with three compatible devices, you simply long-press any of the keyboard buttons to switch between them on the fly.
Among the not-so-nice features of the K760 is the Bluetooth setup button located on the back of the keyboard. The entire layout and abbreviated size of the keyboard may also not appeal to staunch FPS gamers. Even so, the K760 is a great general-purpose Mac keyboard with some really outstanding features.
Watch this video review to see this great function in action.
Price point
The Logitech K760 solar keyboard falls in the high end of the solar keyboard range.
Pros
Bluetooth device allocator keys set it way apart from the rest of the Mac pack in terms of multi-device convenience.
Green no PVC construction
Cons
Fairly long sync time
High price point
No backlighting
Not as robust as other examples in the lineup
Our Take
The K760 is a great solar-powered keyboard for Mac users. It is comfortable to use, has some excellent, thoughtful features that really make it unique. Macally would do well to take a leaf out of the K760's book with the device allocation feature! Unfortunately, it does carry a fairly steep price tag.
4. Arteck Wireless Solar Keyboard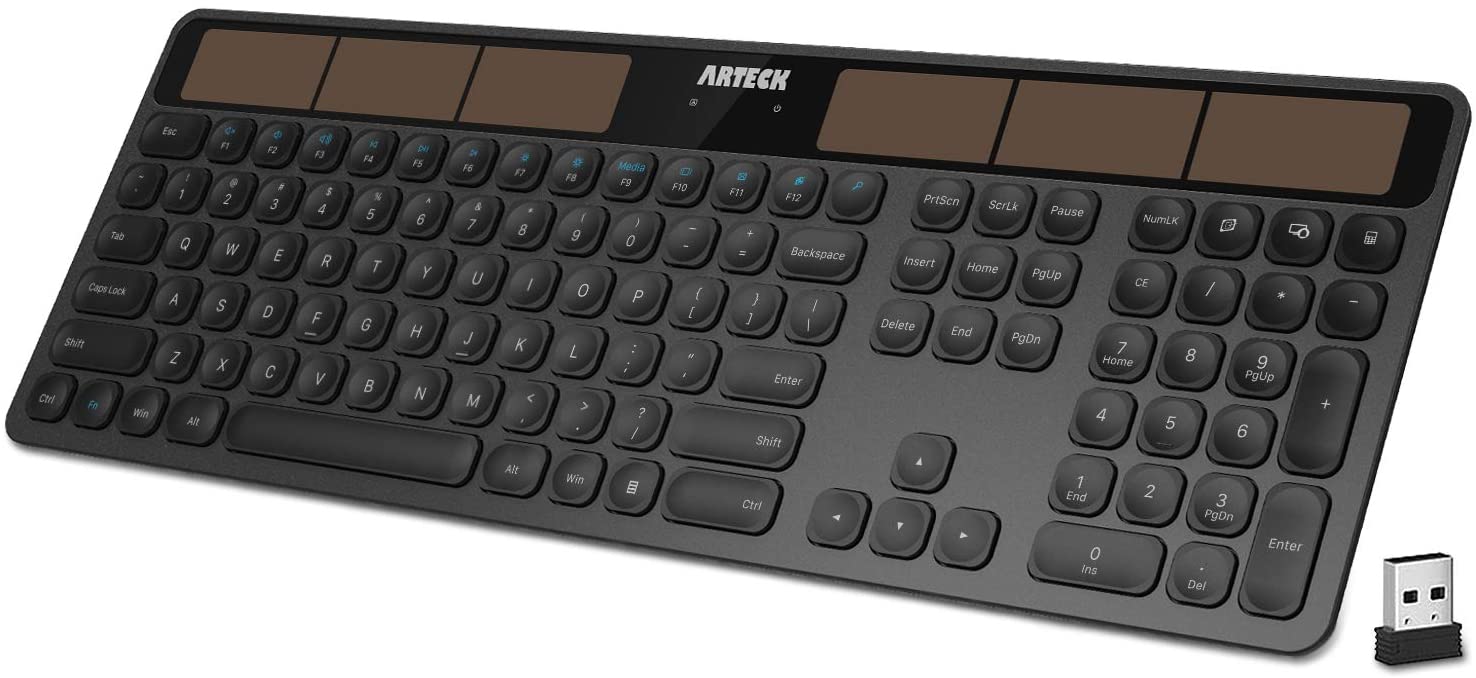 Our fourth-place runner in the solar-powered keyboards race is from Arteck. Although not as well known as our other contenders, Arteck is well thought of and has some fine products on the market.
Overview
The Arteck solar-powered keyboard is the only keyboard in our lineup to sport a stainless steel case. This not only adds considerable strength and durability to the keyboard but gives it a reassuring rugged feel. Despite its rugged construction, it's slim and relatively light, considering it has a full 110 key layout.
The keys are of a standard low profile concave keycap design, delivering a quiet, comfortable, and intuitive typing experience.
Shortcut keys in the layout, including email, browser, monitor brightness control, and several media functions, which are not found on many items in our lineup.
Using a conventional 2.4 GHz wireless nano receiver makes setting the keyboard up quick and simple, with no additional drivers required. The system has a good range, and using the keyboard at distances up to 33 feet is a breeze. The Arteck solar-powered keyboard can be used on a wide range of devices, including desk and laptop computers and smart TVs.
The Arteck keyboard uses a Li-Ion polymer battery that has a claimed black-out charge life of six months in a two-hour daily usage scenario. That is the longest no-charge battery life of all the products in our lineup.
Take a closer look at the Arteck solar keyboard in this review video.
Price point
The Arteck keyboard comes in at the low end of the solar keyboard ranks and is one of the most affordable examples in this lineup.
Pros
A stainless steel case, unlike most polymer cases in our lineup.
Browser and media function keys.
The longest black-out battery life of all our runners
A very low price point
Cons
Our Take
Arteck may not be a boutique brand, but this solar keyboard is solid and has some great features. And if one looks at the large number of 5-star ratings the keyboard has received, Arteck is certainly doing something right.
5. Jelly Comb K043 Wireless Solar Keyboard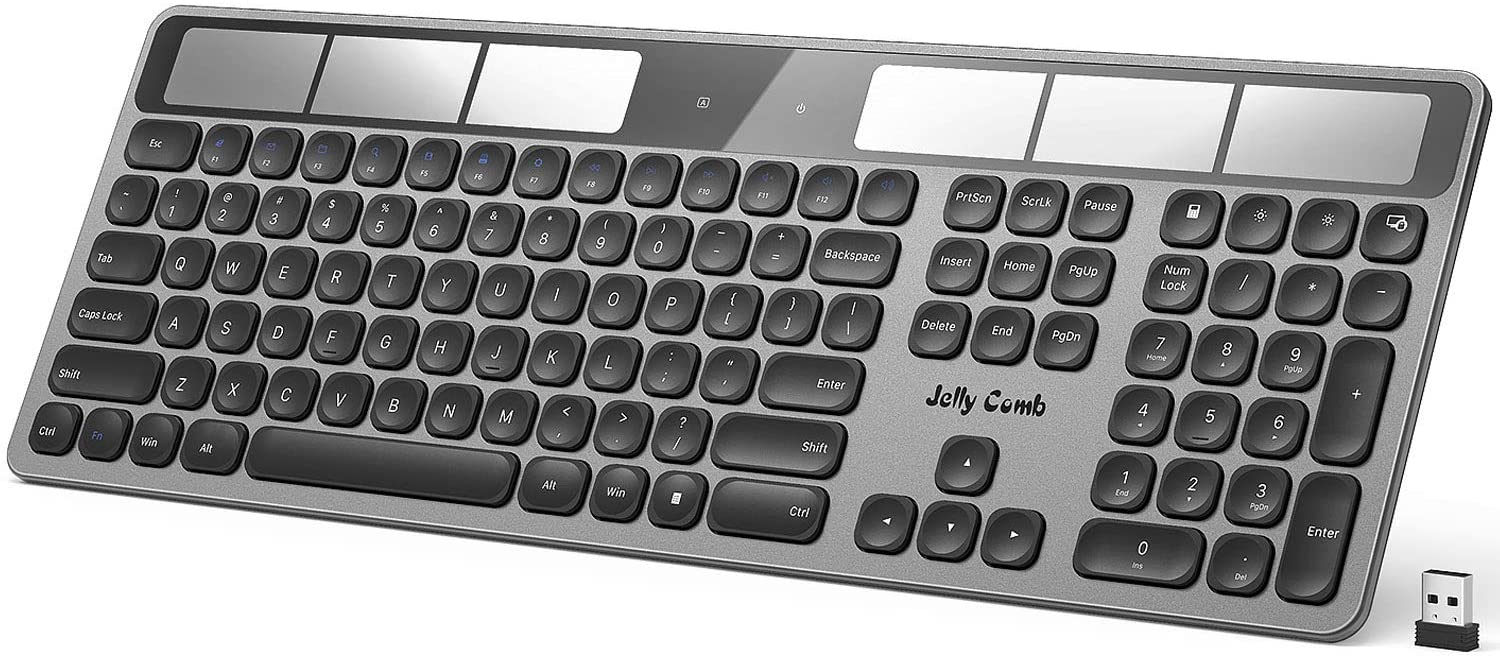 Our Keyboard is a budget wild card from Jelly Comb. In this review, a wild card is a lesser know product or one with fewer ratings that nevertheless shows promise.
Overview
The Jelly Comb K043 wireless solar keyboard features a full key layout with a number pad. The solar recharging comes courtesy of a split, six-panel solar array. The full 110 key layout features concave capped keys for comfortable and quiet typing.
The battery has a good full charge life, and the keyboard features an on/off switch to conserve power. A handy battery indicator lets you know at a glance what the battery charge status is.
Connectivity comes courtesy of a conventional 2.4 GHz USB RF receiver. The stated operation range of the keyboard is an average of 33 feet or 10 meters. Unfortunately, unlike the K750, the receiver is not unifying and can only be used with the keyboard.
Price point
This keyboard is priced towards the bottom of the solar keyboard lineup.
Pros
Good battery life
Well designed keys
Slim portable design
Cons
No keyboard backlighting
Non-unifying RF receiver
Our Take
The Jelly Comb K043 is a bit of a dark horse with few ratings. That said, those ratings are almost unanimously 5-star. For this reason, the K043 deserves consideration if you are in the market for a reliable, lower-priced solar keyboard.
6. Logitech MK750 Wireless Solar Keyboard and Mouse Combo

This contender is the first of our two combo packages. The Logitech package consists of our first place K750 wireless solar keyboard and Logitech's M705 Marathon wireless mouse.
Overview
The M705 Marathon is a high-performance laser sensor mouse and a fitting sidekick for the excellent K750 keyboard.
A true Rolls Royce of optical mouse technology, the M705 is sculpted to fit your hand perfectly for effortless and fatigue-free use. Scroll speeds can be switched between hyper-fast and line-by-line precision with ease, and tracking is equally precise with 1000 dpi cursor control. In addition, a tilt wheel allows for horizontal scrolling, ideal for large format work.
The M705 is powered by two AA batteries which, when paired with a convenient on/off switch and auto-sleep power saving, deliver up to three years of battery life. The mouse connects via the standard Logitech unifying receiver used for the keyboard and has a similar 33 foot or 10-meter range. This allows you to use one receiver for both keyboard and mouse.
Being able to customize the functions of all 5 mouse buttons using the Logitech Options software suite is an added bonus.
Price point
Considering what you're getting with the MK 750 combo, the price is reasonable.
Our Take
The MK 750 combo is an excellent pairing of two outstanding products. A great choice for setting up from scratch or replacing existing hardware
The Solar Powered Keyboard Takeaway
Solar-powered keyboards represent such a logical step forward in wireless keyboard technology. Just ask yourself when last you changed batteries in an average desktop calculator! Hopefully, this best solar keyboard review will make choosing an example of this technology easier for you. To recap, though, here are a couple of buyers-guide tips for choosing the best solar-powered keyboards to suit your needs.
Bluetooth vs. USB RF
Bluetooth: Bluetooth is more flexible. Your keyboard can be used with devices that don't have USB ports. In addition, the rapid growth in popularity of USB-C technology may render the use of older USB-A RFreceivers redundant. At present, no wireless keyboard manufacturers offer RF options in USB-C configurations.
USB RF: USB RF (radio frequency) keyboards are, on the other hand, far easier to set up. The receiver, or dongle, is plugged into a USB port, and that's that. Drivers load automatically, and you are ready to roll. No pairing hassles, just plug and play. To top that, keyboards from Logitech feature unifying technology, which allows for multiple devices to be used with a single receiver.
Battery life
Don't fuss the numbers on this one. Some wireless solar keyboards claim massive battery life figures, which look good on paper but are usually overstated or come at a cost elsewhere. You'll never use your keyboard in total darkness for six months or even three months, so don't make a choice based on battery life claims.
Keyboard design and typing experience
This point may seem less important than others, but it can make or break your experience with your choice of keyboard. Concave, scissor-type key designs are quieter, longer-lasting, and more comfortable to use. Full-size layouts offer greater key spacing and increased comfort and speed.
A full-sized layout would also include a range of keys that you may miss sorely with a dinky compact design. In addition, shortcut keys are more than just a gimmick. Depending on what you use the keyboard for, preset keys can greatly enhance the usability of the keyboard.
If you can, get into a store to try the keyboard out, read or watch the reviews.
Build quality and peripherals
Fortunately, the market is competitive enough for low-quality products to die a mercifully early death. It's still a good idea to pay attention to the materials used in the construction of solar keyboards and the extra features they have. This is often not easy to do particularly if you are shopping online.
Checking out customer reviews and visiting manufacturer sites can often be very valuable in establishing build quality. Steel cases, high-quality scissor mechanism keys, on/off switches, battery indicators, and solar charge apps are all great additions to any solar keyboard.
Well, that's a wrap, folks. Good luck with your choice of wireless solar keyboard.
If you have any related experiences or advice to share, please use the comments section below.